Caid Equestrian
Caid Equestrian is dedicated to the practice of skills at arms on horseback. We also practice and learn basic and essential horsemanship. One does not need to own a horse to participate. However, horse sharing is at the discretion of the horse owner.  Please be aware that all children must have a parent or guardian with them during practice.
There are two equestrian guilds in Caid:
Calafia meets once a month, on rotating Sundays, at:
Tumbleweed Ranch,13315 Willow Road, Lakeside CA, 92040.
Practices usually start at 9:30am and goes to early afternoon
Always check for updated information for dates/times at:
Calafia email: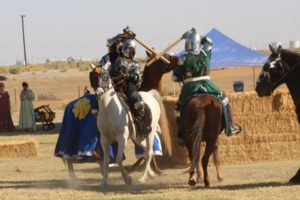 Altavia/Darach generally meets every 3rd Sunday at:
Swanhill Farms, 8500 Waters Rd, Moorpark CA 93021.
Practices usually start at 9:30am and goes to early afternoon
Always check for updated information for dates/times at:
Altavia/Darach email:
Facebook group: Caid Equestrian – Kingdom of Caid – Society for Creative Anachronism (SCA)